Metal Detecting in Baldwin County Alabama
Metal Detecting in Baldwin County Alabama
Baldwin County Alabama History
Excert from History of Alabama and Dictionary of Alabama Biography
By Thomas McAdory Owen, Marie (Bankhead) Owen
Published by The S. J. Clarke publishing company, 1921
Settlement and Later History.—The history of Baldwin County is inseparably associated with two great Indian tribes, the Alibamos and Creeks, with three great European nations, France, Spain and England, and at different times and under peculiar circumstances, with the Americans, as friends or enemies. The first American settlements in the county were made on Lake Tensaw and on Tensaw River, mostly by Tory families which migrated from Georgia and South Carolina during the American Revolution, although some came after that struggle, leaving their homes in consequence of Whig intolerance. Intermingled with these Tensaw settlers, however, were Whig families. Some of the family names of the settlers have been preserved— Byrne, Easley, Hall, Kilcrease, Linder, Mima, Pierce, Sibley, Steadham, Stockton and Holmes. Of these, Captain John Linder was the most prominent. He was a native of Switzerland, and was in the British service for several years as engineer and surveyor. During the Revolution, Gen. Alexander Mc- Gillivray assisted him in removing his family and numerous negro slaves, and in settling them on Lake Tensaw. The settlers were later reinforced by the arrival into their midst of several Indian countrymen, with their Indian wives and halfbreed children. Benjamin Durant was a type of these newcomers. He was a Carolinian who had married Sophia, a sister of Gen. McGillivray.
The first saw mills in the county were owned by Byrne and by Joshua Kennedy. They were in existence in 1813, but no doubt had been erected several years previously. The first cotton gin was established in 1803 by John and William Pierce at the Boat Yard on Lake Tensaw. Another cotton gin was built at McIntosh's Bluff on the Tombigbee, but the year of its erection is not known. (page 86)
Baldwin County Alabama Ghost Towns
Fort Mims
Fort Mims 4 miles W Tensaw. Built by settlers in 1813, more than 100 houses surrounded the fort. It was attacked by Indians and all but 36 of the 500 area residents were massacred by the Creek Indians who burnt the fort and houses to the ground.
Scrange Alabama
Scrange is a ghost town in the northeast corner of the county, 5 miles southeast of  
Blacksher
. Also found spelled Scranage. Scranage post office in operation from 1899 to 1937.
Blacksher was once home to six general stores and a naval store. An old community located 5 miles northeast of Tensaw, was listed in census of 1890. Once known as Montpelier, Blacksher has much history. In 1910, it consisted of six general stores and a (Wilson) Naval Store facility. Made up of about six square acres of land in upper Baldwin County, Blacksher's timber industry is vital and main reason for the settlement.
Latham Alabama
Latham, Alabama is an unincorporated community, four miles southwest of Tensaw, in Baldwin County, Alabama. It is the location of Latham United Methodist Church, and the Nelson House, both of which are listed on the U.S. National Register of Historic Places.
Montpelier Alabama
Historical locale in north Baldwin Co, about 5 miles east of Blacksher. A settlement existed here by 1856, when it appears on John La Tourette's Map of the State of Alabama and West Florida. The principal building there today is Montpelier Methodist Church. Montpelier and Blacksher refer to the same general area in north Baldwin county, with Blacksher being the current name. Its origins lie in the 1812 war with Britain, when the Creek Indians were encouraged to rise in arms, massacring several hundred settlers who had taken refuge in Fort Mims, near the junction of the Alabama and Tombigbee rivers. (At this time the area was in Mississippi territory, Alabama not achieving statehood until 1819.)
Clare Alabama
Two miles east of Rabun Alabama
Morrison Alabama
on RR, 5 miles southeast Rabun
6. GT Dyas on RR, 6 miles S Rabun.
7. GT Carney on RR, 5 miles NE Bay Minette.
 8. While being pursued by hostile Indians around 1780, Spaniards buried an enormous treasure of gold bars near Bay Minette. There are numerous legends about treasure in the area ….one such cache is valued at $70,000.
9. Unidentified pirate treasure is said to be buried in the area of Bay Minette.
10. GT Dolives on RR, 2 miles WSW Bay Minette.
11. Morris Slater, alias Railroad Bill, was a train robber in the 1890's in SW Alabama. None of the loot he acquired over his 6 years of banditry was ever recovered. Many believe the cash was buried, possibly in a cave. The only clue he left before he was gunned down at Atmore in 1896 was that he never strayed far from the RR tracks between Atmore and Bay Minette.
12. There are several old logging townsites containing relics and artifacts along this same route.
13. A cache of gold and silver coins worth $90,000 and known locally as the Gaineswood Treasure, remains buried near Stapleton.
14. GT Carpenter on RR, 5 miles WSW Bay Minette.
15. GT Hurricane on RR, 8 miles WSW Bay Minette.
16. GT Gateswood Junction on RR, 10 miles SE Gateswood.
17. GT Rosinton 5 miles NE Robertsdale.
18. From 1815-1864, Henry Numez operated a very profitable ferry on the Perdido River, about where hwy. 90 now crosses the river, about 16 miles NW of Pensacola, Florida on the Alabama side. He died around 1866 and it was believed by area residents that over $100,000 in gold and silver coins was never recovered. The hoard is presumed to be in several different caches and buried somewhere near the old ferry landing or the ruins of his old house.
19. Local stories claim that 2 small treasurecaches have been found in the immediate area but are not believed to have been a part of the Numez cache.
20. GT Battles Wharf on Mobile Bay, 2 miles SW Fairhope.
 21. GT Euclid 4 miles E Point Clear.
22. GT Marlow 8 miles E Point Clear.
 23. Fort Morgan on Mobile Point, 20 miles W GulfShores. First built by the Spaniards in 1559, and later occupied by the British, French and American forces.
24. Pirate treasure is buried on the tip of a long sandy peninsula separating Bon Secor Bay from the Gulf of Mexico near Fort Morgan.
 25. The pirate Jean LaFitte is reported to have cached upwards of $10 million in booty in the Fort Morgan area.
 26. The area of Fort Morgan was a haunt for the 19th century pirates and it is believed that a considerable number of treasure remains buried in the area that still awaits recovery. Individual coins have been found at the site.
27. In 1822, the American merchantman Margaret Ann, coming from New York, wrecked off the beach near Fort Morgan.
28. In 1559, a fleet of 13 Spanish vessels sailed from Vera Cruz to start a colony at Pensacola. While at anchor in Mobile Bay, a hurricane struck and 7 of the ships were cast up onto the beach and another hoisted into a grove of trees 300 feet inland on the E side of the bay. Those who survived were later picked up and returned to Mexico.
29. GT Gasque on Bon Secours Bay, 2 miles NW Pine Beach.
 30. GT Oak 5 miles NNW Gulf Shores.
31. GT Roscoe 5 miles due N Gulf Shores.
32. GT Swift 2 miles NW Miflin.
33. GT Josephine on Perdido Bay, 4 miles NE Orange Beach.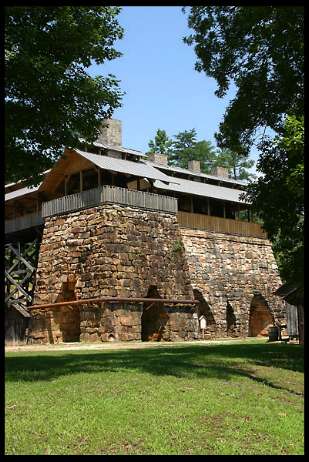 Old iron works at Tannehill
10299 County Road 1
Fairhope, Alabama 36532
Post Offices and Towns.—Revised to December 31, 1916, from U. S. Official Postal Guide. (page 88)
Barnwell
Battles Wharf
Bay Minette (ch)-
Blacksher
Bon Secour
Bromley
Carney (present-day Stapleton)
Caswell
Daphne
Davies
Dyas
Elberta
Fairhope
Foley
Fort Morgan
Gasque
Gateswood
Hurricane
Josephine
Latham
Lillian
Little River
Lottie
Loxley
Magnolia SpringsMiflin
Montrose
Oak
Orange Beach
Palmetto Beach
Perdido Beach
Perdido Station
Point Clear
Robertsdale
Roscoe
Scranage
Seacliff
Seminole
Silverhill
Stapleton
Stockton
Summerdale
Tensaw
---